Derrick Gordon, Ph.D.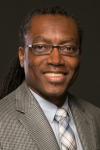 Assistant Professor, Psychiatry
Address:
34 Park St, New Haven, CT 06519
ARCH Role:  Co-Investigator, PARTNRS; CREW
Dr. Gordon is an Assistant Clinical Professor of Psychology in Psychiatry at the Yale University School of Medicine and at The Consultation Center, Division of Prevention and Community Research, where he is Director of Research, Policy & Program on Male Development. Currently he is serving as the clinical supervisor for the Connecticut State EVOLVE Program. Dr. Gordon is involved in the Greater New Haven Domestic Violence Task Force where he has held various leadership positions. He is the Director of Research for the Male Involvement Network, which seeks to support low income, non-custodial fathers. Dr. Gordon's interests include risk and protective factors for adolescents identified as at risk, fatherhood contributions to child development, the impact of violence on the development of children, fathers, and families and the impact of social and individual ethnic/racial identity on academic outcomes.