Nathan Hansen, Ph.D.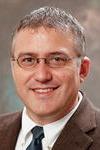 Associate Professor, Psychiatry
Address:
34 Park St, New Haven, CT 06519
ARCH Role:  Co-Investigator, Partners in LIFE; Multi-level Intervention for HIV-Positive MSM in India 
Dr. Hansen is a clinical psychologist and an Assistant Professor in the Division of Prevention and Community Research of the Department of Psychiatry at Yale University School of Medicine. His clinical training focused on the treatment of substance use disorders and Health Psychology. Additionally, Dr. Hansen completed two years of HIV/AIDS specific postdoctoral training in Health Psychology at Yale University's Center for Interdisciplinary Research on AIDS. Dr. Hansen's research centers on the intersection of trauma, particularly interpersonal violence, and negative health consequences, such as psychiatric disorders, substance abuse, and sexual risk behavior. Additionally, Dr. Hansen has focused his research and clinical work specifically on populations living with or at risk for HIV infection, both domestically and internationally.