Crystal Gibson, MPH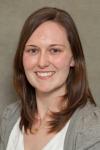 Address:
135 College Street, Suite 358, New Haven, CT 06510
ARCH Role:  Research Assistant, Partners in LIFE; CREW
Crystal was a former Masters degree student in Public Health in Social and Behavioral Sciences at the Yale School of Public Health.  She joined ARCH in September 2012, and worked closely with the team on the Partners in LIFE curriculum and implementation.  Her interests include risk for HIV/AIDS in vulnerable populations as well as maternal and child health.
Prior to ARCH, Crystal served in the Peace Corps in the Caprivi region of Namibia, where she worked with people living with HIV/AIDS (PLWHA) and orphans and vulnerable children (OVC) in issues of food security, HIV prevention, and psychosocial support.  Crystal's background is in cognition and neuroscience in schizophrenia, and she has worked on several projects related to working memory, imitation, social cognition, and creativity in schizophrenia and bipolar disorder.