Jonathan Cruz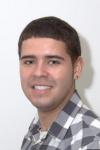 Title:
Visiting Student in Research, School of Public Health
Address:
135 College St, New Haven, CT 06510
ARCH Role:  Research Assistant, Partners in LIFE; CREW
Jonathan was a visiting student from Brown University where he studies Portuguese and Public Health with a focus on the social determinants of health. He joined ARCH in June 2013, and worked with the Partners in LIFE and CREW studies. His research interests include social inequality, language interpretation in medicine, and improving minority health.