Meghan Angley, MPH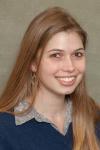 Address:
135 College Street, Suite 358, New Haven, CT 06510
ARCH Role:  Research Assistant, Partners in LIFE
Meghan is a former Masters student in Public Health in Chronic Disease Epidemiology at the Yale School of Public Health. She joined ARCH in September 2012, and has primarily worked with the Partners in LIFE program. Her research interest is maternal and child health, specifically as it relates to pregnant and parenting adolescents. Prior to beginning her studies at the Yale School of Public Health, Meghan was a Teach for America corps member in Houston, Texas, where she taught chemistry and physics to at-risk high school students.