Tiffany Bell, MPH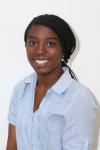 Address:
135 College Street, Suite 358, New Haven, CT 06510
ARCH Role:  Research Assistant, Partners in LIFE
Tiffany Bell is a former Yale College Student and a Social and Behavioral Sciences MPH student in the joint BS-MPH program. She joined ARCH in September 2013 and primarily worked with the Partners in LIFE program. Her research interests include sexual health and maternal and child health, as they relate to health disparities in vulnerable populations. Prior to working with ARCH, Tiffany conducted research at Yale School of Medicine on contraceptive usage, and in the future, she hopes to serve as an obstetrician/ gynecologist in underprivileged communities.